Posted by : Konstantine
Sunday, March 29, 2009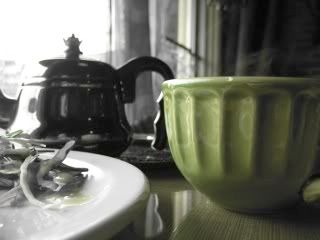 I think I may have found my new haven, removed from downtown Windsor, which has become far too crowded and noisy to allow for a nice evening with a book. 
Tucked away in the historic Walkerville section of Windsor is
Taloola Cafe
, a small establishment that seats at most 40 people. It is home to delicious food and an astounding selection of teas; you pick your own mug, each of which is unique (my selection seen on the left, see more
here
), choose a table and are then supplied with your very own brewing tea kettle, which pours at least four full cups. The cafe is housed in a small portion of an old brick building, sharing sidewalk space with a print shop and a new age healing clinic (more on that later). Everything about Taloola is welcoming and cozy. The interior is hard to describe, but best imagined as being reflective of its mug selection: entirely unique.
I find myself lost in my books, even with every seat in the cafe being occupied, which speaks to the general tendency Taloola's patrons to be very conscious of the people around them. My only hope is that this will last as the cafe grows in popularity.