Scooter Adventure — Part II
Posted by : Konstantine
Monday, July 12, 2010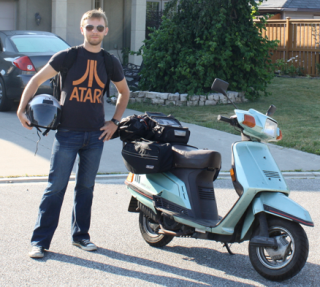 I'm alive! My GPS is to thank, along with my perseverance and notably hardened buttocks. To keep you guys from an onset of ennui, I'll limit this post to little detail.
The entire trip, as per GPS, took 780km to complete. Here is a quick break down of expenses and mileage:
Gas: $25.14

Food and beverages: $68.57

Entertainment: $24.87

Lodging: $101.92

Mileage: 3.03L per 100km
Roughly, this is the route I took:
View Larger Map
The path I took deviated substantially from my initial plans, mostly due to the fact that was I making such incredible time. Arrival and two hours worth of hiking at Rondeau Provincial Park spurred me to continue on my journey and find a better place to set up camp for the day. I was fortunate enough to end up in Long Point Provincial, which has to be among the top three parks I have visited in Ontario. Here's my beachfront camping site. I was in heaven.
An immense amount of pride went through me when I finally arrived in Toronto. The fact that the scooter performed without so much as a hiccup was the main source of this, since I rebuilt and repaired it myself from a non-running state a few years ago.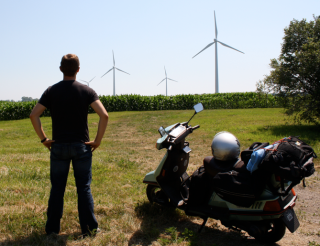 On a scooter, no less, I've discovered what the open road feels like.