OLA Bike Trek 2009 - Part X - The Recap
Posted by : Konstantine
Saturday, May 30, 2009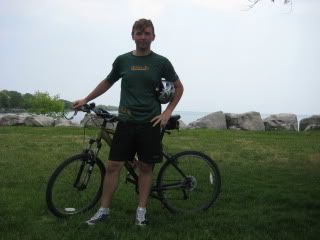 Fresh after finishing the last 105 km leg of the 200+ km trek, the picture above is one in which I am extremely satisfied. Last weekend's ride was nothing short of spectacular in every sense of the word and I could not be any more content for being a part of this event. 
The first day was slightly disgruntling for me as I did an extra 17.2 km of riding due to a blown over directional sign that I did not see. This landed me in 17th place out of 55 participants with a total distance of 112.2 km, a moving average of 27.8 km/h, a fastest speed of 39.9 km/h and a total time of 4:22 (including all rest stops). The detour on the first day was not a fun one as I had missed a particularly important turn entirely and had to complete a gigantic horseshoe shaped ride, half of which was on loose gravel, in order to go back to the proper path. Although disappointing for a few moments, I did not dwell on this mistake. The most interesting part of the trek happened within 2 km of the finish line on the first day, where my rear tire went flat. I picked up my bicycle and ended up running approximately 500 meters with it hoisted over my head and then then remaining 1.5 km with it at my side. 
Although a much tougher ride due to wind and rain, the second day's trek was far more enjoyable. I finished 7th out of 55 participants, coming in 10 minutes behind the lead pack of road bicycles; I have to restate that I was riding a mountain bicycle with road slicks and no foot locking pedals. My GPS' battery had died in the middle of the second day's trek, so I could not collect exact data on the 105 km ride as I did with the previous day.
What a weekend. A special thanks to Joe Stonehouse who ended up being my road buddy for most of the trip and a very good one at that.